As an injured and bored runner, I bought a bike in January 08. This bike was very different to my last bike which I got as a present for my communion (a second hand thing with one brake and the second brake kicked in when I pedalled backwards!) I loved it but felt it wouldn't really make the grade for the Tour training. So I bought a road bike and embarked on a few spins before training for the Tour which began in April.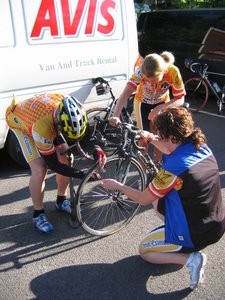 The first training evening was a major shock to my system, I remember Declan had to give me a push a few times, and Mick Landers waited for me when I was trailing behind the group, well behind the group. We got to the ferry and crossed over to Cobh, very near my house and I was having serious thoughts of pedalling home as fast as my legs could peddle me! But before I knew it I was called up toward the front and we were off again. On the way back through the city, Mary Morrison told me to stay on her wheel, I had no idea what this meant but felt much better after I tucked in behind her. Everyone was very encouraging and reassuring me that I would be flying it after a few more sessions! When we got back to the airport that evening I was so glad to see my car and decided to have a long, hard think about coming back the next evening…
A few months later, rolling into Silversprings having completed the Tour, the thoughts of that first training spin weren't far from my mind. I did go back the next night and in the following months I slowly but surely improved and had a great time in doing so!
The Tour set off from Silversprings on Thursday the 14th. Lots of cyclists were milling around, checking out the bikes and making a few final 'adjustments' before we hit the road. First stop was the City Hall. We headed in along the lower Glanmire Road and I was cycling along next to Sean Kelly, a huge honour, so I had to concentrate extra hard so as not to cycle into potholes or do something dorky! We arrived at City Hall, met Deputy Lord Mayor John Buttimer and the Enable Ireland crew, who had the place looking fantastic with balloons and posters all over the place. A few cameras were there as well so we posed for about 90 gazillion photos before setting off on Tour de Munster 2008.
The weather was smashing as we headed out through Fermoy and through beautiful country side that could never be appreciated fully from the car. I kept hearing about this 'Vee' business and there were a few bets going on as to who would be victorious this year. Once we got to the dreaded climb it really wasn't all that bad, I had some great pacers and there was a sweet descent which more than made up for the climb. We passed the house of the dreaded Bassett Hound, who had obviously learnt a lesson from 'The Trip to Tipp' because he kept a low profile this time, much to my relief!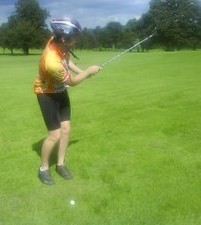 Lunch was in The Cahir Park golf club, so a few fella's got to practice their swing as well as chow down! After lunch and a few more adjustments to the bike, we said goodbye to Sean Kelly (I think the pace was a bit much for him) and rolled on through Tipperary enjoying the sunshine and scenery. Before you know it we were stopping again for tea and scones at Pa McGrath's pub, so far so good…..
We made it to Killaloe at around 7. The Lakeside Hotel's plunge pool was invaded upon our arrival; I only managed to stay in for all of 7 seconds before I chickened out and opted for a hot shower, dinner and an early night!
Friday morning brought sore legs and plenty more miles but the sun was sort of shining so that was a relief. There were a few splinter groups set off at different times after breakfast, arranging to meet up in Castlegregory that evening. We made our way along a fairly nasty road into Cruises Street where we were met by The Enable Ireland crowd for more pictures and posing! The stop just happened to be beside a McDonalds, which a few cyclists decided to take advantage of, bring on the McFlurry's! I'd say they were sorry afterward… Our escort out of the City was left in no doubt of his inadequacies by Gerry Murray. I was finding it hard to stay upright on my bike I was laughing so much at the abuse that was being hurled around up the front, but we all made it out in one piece. A welcome pit stop was provided by the Enable Ireland Centre in Tralee. They put on a massive spread for us, drinks, scones, sandwiches, all which was wolfed down with gratitude! They put in a huge amount of work to welcome us and feed us and it was just what we needed before heading on for Castlegregory.
After a few downpours, we arrived in Castlegregory to the sobering news that a few cyclists in the group behind us had crashed. Luckily none of them were too seriously injured and were very well looked after by the doctors and physiotherapists of the group.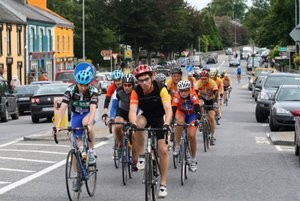 Saturday morning brought the lashing rain and the prospect of climbing the much anticipated Connor Pass. The rain belted down as we silently ate our porridge and thought of what lay ahead. I decided to cheer things up by wearing my King of the Mountains jersey which seemed fitting for the day! (The damn jersey didn't seem to help at all when I was wheezing my way slowly up the Pass, granny ring all the way, woo hoooo!) We set off walking with our bags up to meet the others and luckily for us a tractor and trailer stopped to give us a spin. So we flung our bags on board and hopped on to the back of the tractor. Poor Tom sat right behind the back wheel of the tractor therefore got soaked in muck whilst doing his best Angelina Jolie impression (an impressive result of the previous day's mishap!) We were delivered safe and sound to our bikes just as the sky started clearing and the sun was beginning to shine and set off for the climbing stage of the Tour de Munster 2008!
Much of this day passed in a blur of the most gorgeous views of Kerry, the sound of my gasping for oxygen on the climbs and some more sweet descents not to mention the sun shining (albeit briefly at times). Lunch was in Killarney and then we headed for Molls Gap. The sky was darkening by now but the rain held off and we made it to Lauragh safely. At this stage I had cottoned on to the whole drafting business and flew down into Lauragh stuck on Paul's wheel. I think John Gahan was relieved when I stopped!
Dinner was in the famous Josie's restaurant which really lived up to its reputation! At dinner we met some of the beneficiaries of Enable Ireland, the Browne family, 3 girls, twins Emma and Noelle and there was their younger brother and sister, Aoife and Seamus. Emma has cerebral palsy and is a wheelchair user. Their mother, Lucy, told us of the need for such vital services and support that Enable provides and what a difference it makes to their lives. These children were just so funny; they were telling us stories and chatting non stop, such gorgeous, bright kids without a care in the world. But I think Seamus was glad to see the back of us so he could finish his ice cream! This Tour was a challenge but to see where our sponsorship would be going put everything into perspective and you realise how privileged and lucky you are to be able to partake in it.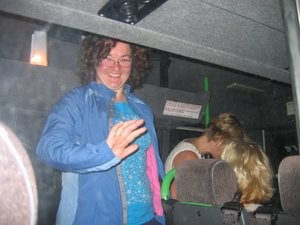 After Josies it was on to The Síbín for a few glasses of Lucozade(!) The bus journey back to the B&B was a big highlight; Trish proved that you really can have a ceili where ever or whenever you want, and the singing, even the bus driver belted out a few. Well the less said about that the better really!
Our final day of the Tour started with a big dark cloud rolling in over the Healy Pass. It was great cycling from the hostel over the rolling hillocks, not so eat climbing the Healy Pass. Once again Paul provided the pace for me heading up the Pass along with Adrian out front and Vinny behind him and beside me. This kept me well protected from the increasing gusts and showers. I had never been up this Pass before and didn't really know what to expect. Boy it was a tough one, but again the scenery was spectacular when I did look up! But we pedalled along until we were about 200 metres from the top, where the gradient turns into a right b*tch. Out pops Vinny and makes for a sprint finish, Adrian simply couldn't resist and pegs it after him. Where they got that kick from I just don't know but I was impressed! Meanwhile, Paul was stuck with me where I was seriously on the limit and just about making each pedal stroke. But he gets me to the top and we leave the lads to get their breath back at the top and zoom down the other side, that climb and descent was probably one of my favourite bits of the Tour!
The rest of the day just got colder and wetter. Despite a full change into dry clothes at lunch in Gougane Barra, I and most other people were drenched within 10 minutes of being back on the road. I couldn't wait to get back to Silversprings!
I can't remember what time we got back to Cork at but it was great to see the Enable Ireland'ers out in force again. After a hot shower and a change of clothes, we assembled in the hotel for a reception and a few words from Enable Ireland Chairman Donal Cashman to bring our Tour de Munster 2008 to an end.
For anybody considering doing the Tour in the future I would say go for it! The Tour was a fantastic experience, and for a very worthy cause. I can't wait for the 2009 edition! I would like to thank all my sponsors (both corporate and otherwise!) for helping me raise the funds for Enable Ireland. I would also like to thank all who organised the Tour, Paul and Declan in particular and for all the encouragement and help during the training and the Tour itself. It is such a huge undertaking to put together an event like this and was carried off with such finesse! Chapeaux!!!
Raedi Higgins
November 2008